VisualEyes
 can supply personal or industrial safety glasses. Whether you are at home in the wood shop or mowing the lawn, always protect your eyes with appropriate safety eyewear.
Understanding the Difference
Street eyewear is designed for appearance and dress. Safety eyeglasses are designed to protect your eyes from high impact accidents. Extremely affordable; priced at Industrial contract prices like the big companies get.
For the building industry, all of our safety frames and lenses meet required safety standards.  Contact us for your business needs so we can discuss the frame and lens options available. All frames and lenses are manufactured to meet ANSI Z87 Standards.
Benefits
Safety eyewear protects you from:
Sun – Working outside means protecting you from the suns glare and UV rays.
Chemicals & Hazardous materials – Whether mowing the lawn or working in the shop you need extra protection from chemical spills, debris and pollen that could cause irritation or serious injury if not properly protected
Heat – Keep an eye on what you're doing without irritation form heat to your eye with our huge selection of heat protective eye wear
Fact: In the U.S., eye injuries are the #2 cause of visual impairment behind Cataracts.
Fact: Half of all eye injuries each year occur in and around the house.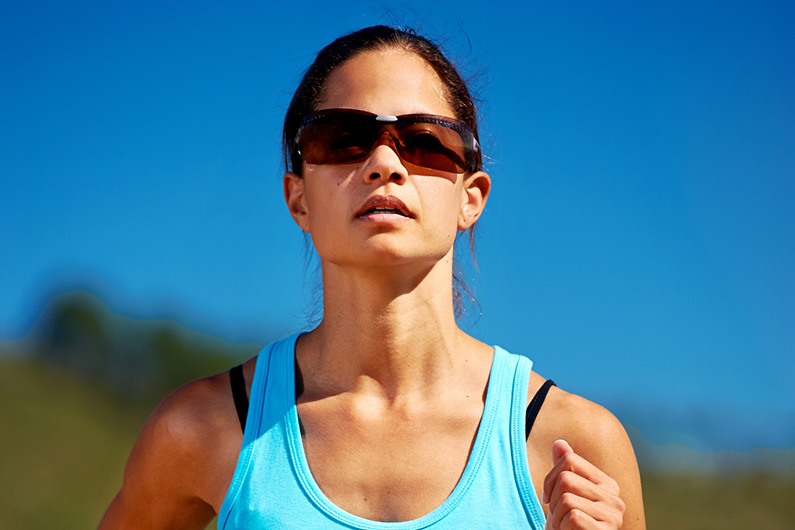 VisualEyes can supply your sport specific glasses. Whether you wear prescription eyewear or not, when active in sports you should wear eye protection. More than 600,000 eye injuries related to sports and recreation occur every year. Most eye injuries could have been prevented with appropriate protective eyewear. 
Street glasses do not provide adequate protection and may increase the risk of an eye injury
. All our sport frames and lenses meet ASTM safety standards.
Always protect your eyes with appropriate sport eyewear, such as:
Prescription swimming goggles
Prescription Scuba mask lenses
Youth and adult sports wear
A full line of Motorcycle eyewear can be viewed at www.wileyx.com
Performance Eyewear
Performance Eyewear is geared toward individuals who embrace an active, even competitive, sports lifestyle. Our competitive performance eyewear is either prescription or non-prescription. Even if you wear contacts you need protective eye wear to protect yourself from sun damage, wind and other harsh elements. If you are on the go and need tinted performance eyewear, or competition sunglasses, we have what you need at Visual Eyes in Ankeny.
We carry performance eyewear for:
Kayaking
Biking
Rafting
Cross Country
Marathon running
Road Running
Go Kart Racing
Track and Field
Rock Climbing
Skiing
Snow Boarding
Trap shooting – check out our selection of Decot Sport Glasses